Rough Collie or Scotland sheepdog is the most popular and known sheepdog of the British islands. This is a dog built on lines of strength, activity and grace, with a shapely body and sound legs and feet. He is lithe and active in his movements, and entirely free from coarseness in any part of his conformation. His rich coat protects him from cold as well as from hot weather, at the same time the structure of the coat is such that it does not need any complicated care. The "Speciality" of the breed is the unusual form of the head. His unique expression makes Collie the most beautiful of the canine race. The outline of a collie is full of elegance and dignity. If one says: "Noble dog"- it's about Collie.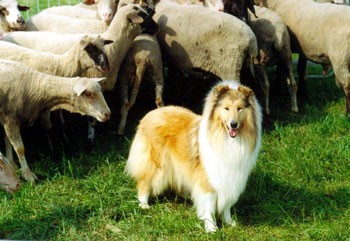 Like most of the sheep dogs the Collie is highly intelligent and can be trained with ease. But the collie differs with the ability to live and co-operate in a very tight contact with humans. Collie adores it's owner, but at the same time he remains very tactical and settled while showing it's love. Because of very energetic temperament the Collie needs a lot of space, but at the same time, if needed, this dog is able to stand without moving for a long time demanding attention. Like all puppies collies are great hooligans, but they cause much less damage to the house or garden than puppies of other breeds. Collies are absolutely not dangerous for the family or guests of the house. It is a perfect partner for children who like playing games or going for walks. Collies are always very careful with children, and because of it's physical structure collie can be a "Soft" dog, meaning that their physical contact to children is gentle.
We have Collies living with our family for over 30 years. We can say for sure that we know most everything about this breed, all the advantages and weaknesses. Out of our experience we can say that the Collie is a perfect friend for sport and shows, this dog will fit everyone who likes beautiful long coated dogs, with conformation close to the natural forms what means they do not have physical or psychological deflection which are present by lots of "Exotic" breeds. Everyone who has had a collie once does not change to another breed later, and if so they still come back to the breed in the end. We know plenty of such examples. We never betrayed our choice and never regretted it.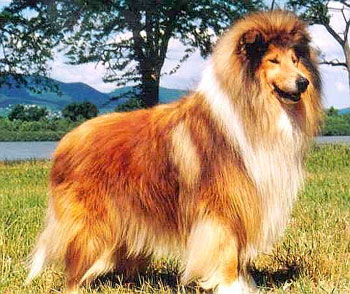 The Collie dog should be strong and masculine, his strong conformation should stay in harmony with typical for the breed elegance. His expression is full of self confidence, peace and dignity. On the photo Hungarian Champion Nyitramenti Narrow-Eyed.
The Collie bitch is a personification of elegance and charm. The perfect head, beautifully bent neck, harmonic forms - she should be feminine to the tip of her tail. The soft expression of the dark obliquely set eyes fulfil the picture of the absolute harmony. On the picture International Champion Nyitramenti Zest for Life.
A well built collie enjoys moving in the valley or on the hill, and we enjoy watching their perfect movements. On the picture: our Elix and Empress going for a walk.
Collies are the perfect partner for walks in a forest. They are playing all the time, it is nearly not possible to get them tired. The absence of the aggression to the strangers makes everything to the perfect fun.
Is there a need to travel with the car? Our collies take their places with great pleasure, they are ready to travel with us for endless long.
This child and our Empress met each other 2 minutes before the picture was taken. Both were thrilled by each other.
These brothers have had luck. Each has his own collie. On the picture Norbert with Biscuit and Daniel with Chairon.
The Collie is a happy dog and is always smiling. Glory is enjoying the hostility of our friend Imre while smiling from ear to ear.
For many collies playing ball is the dearest thing in the entire world. Nyitramenti Dandy - a "know-how" football player who could teach a lot of professionals.
Nyitramenti Impressario taking a barrier with great ease.
Pepiteid His Name was by us for a visit, with so collie like curiosity he was watching the area from the balcony.
A collie of a good quality with correct physical conformation stay in excellent form till his late years. Our Twice World Champion Rhys is still very successful even as a veteran, he won twice the Veteran Best in Show between all the breeds on large shows. On the picture Rhys 10 years old winning Veteran Best in Show at the international CACIB show in Hungarian city Papa. Judge Mr Stefan Stefik from Slovakia.