The Nyitramenti kennel was established by Janos Balázsovits in 1984, when his first collie bitch, ABAHÁZI ANDI gave birth to a litter, the sire was NATASAKERTI BELL owned by Janos as well. At that point in time it was not yet Janos's principle aim to breed show collies of high quality . The puppies from the first mating may not have been successful in the showring,but they were healthy collies of good size and strong bone, who gave their owners pleasure for years.
The first breeding couple of the Nyitramenti kennel: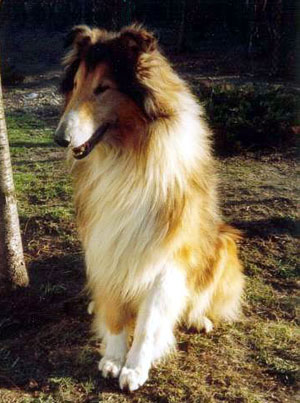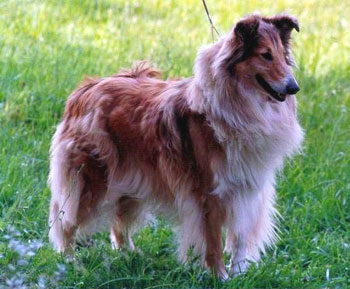 However the time came when Janos got the show bug, and he decided to purchase foundation stock of show quality. Realising it would take considerable time and with the knowledge that it would still not guarantee success in making the corrrect choice, Janos did not study family trees, lines and kennels but instead sought the advice of Mrs Audrey Chatfield, the world renowned collie expert. Mrs Chatfield suggested that Janos buy a puppy from the Claredawn kennel. This kennel belongs to the Robinson couple, and even though it was not a big kennel or famous, Mrs Chatfield assured him that they could offer him a collie puppy of high quality in every respect. Janos in this way obtained the sable-white collie bitch, CLAREDAWN STARS IN HER EYES. With this bitch it was like hitting the jackpot, thanks to her we have achieved the best possible results in this sport. Still today we are grateful to Mrs Audrey Chatfield and Carl and Elisabeth Robinson for this superb sable collie of high quality.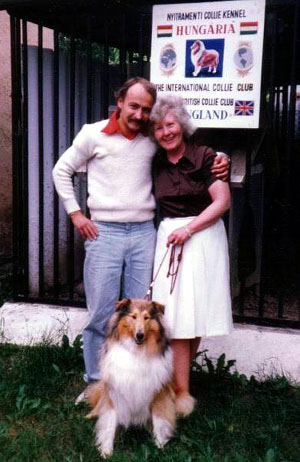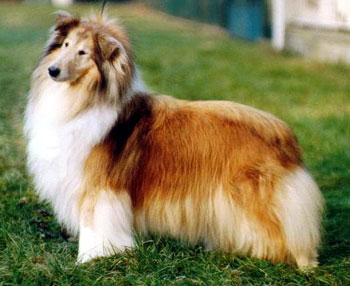 Janos and I got to know each other in 1988, married in 1989 and from that time we have been breeding Nyitramenti collies together. We have built up the breeding in the following way: we purchased seven collies from England (six bitches and a dog) and one dog from Ireland. These collies became the basis of our kennel. Besides the above mentioned Hungarian Champion CLAREDAWN STARS IN HER EYES, who was our best brood-bitch, and whose type we find to be the ideal in a collie bitch, we obtained her two sisters as well. They were CLAREDAWN FLASH DANCE and CLAREDAWN LOOK TO THE STARS, daughters of English Champion HEIGHINGLEA BLACK KNIGHT OF RIXOWN, who was the tricolor son of the legendary English Champion ABERTHORNE ARRESTER. In this way we began to breed with three bitches, with two granddaughters and one great granddaughter of English Champion ABERTHORNE ARRESTER. Their mother was STILGLEN SWEET SOLITAIRE OF CLAREDAWN, bred back to the outstanding dog English Champion ROKEBY OF RADICAL. That dog excelled in construction, masculine and with very rich coat of high quality. STILGLEN SWEET SOLITAIRE OF CLAREDAWN had good bone, size and extraordinary contsruction, clean and correct headplanes, ears carried well, and intelligent, gentle expression. Her movement was excellent and her nice, streamlined, elegant body ended with a straight and long tail. She was the right and trustworthy base for establishing a breeding line.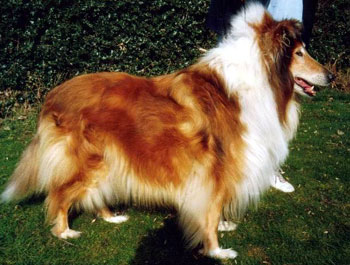 Out of the three sisters imported from the Claredawn kennel Hungarian Champion CLAREDAWN STARS IN HER EYES had the biggest influence on our breeding. She gave birth to five litters by five different stud dogs, and in each litter there was one or more really outstanding collie. "Sandra" had her first litter in 1989 by Hungarian Champion SANDIACRE STREETS AHEAD, who was a son of CH LYNWAY SANDKNOCKER. The collies from this combination weren't taken into our breeding programme, as we didn't keep any puppy from this litter (to this day we regret this, but circuimstances were so..). On the other hand the two collies exported to the Soviet Union had great influence on the Russian and Ukrainian breeding. NYITRAMENTI HUCKLEBERRY - a bitch out of this litter won the Soviet Union Champion title (she was amongst the last collies, to achieve it before the end of the Soviet Union). She was a foundation bitch of the OLD GOLDEN GATES kennel. A dog NYITRAMENTI HALO, who lived in Moscow, sired numerous and valuable offspring. Three sisters of theirs stayed in Hungary, and they were winners in the ring, and even on the Club show, but they didn't make a big impression on collie breeding, as their owners were not interested in persueing that.
The second litter from "Sandra" arrived in 1990 by Hungarian Champion PELIDO ROYAL VELVET, but neither had this litter influence on the improvement of the Nyitramenti breeding stock. We kept a bitch from this litter - NYITRAMENTI JEWELED HAIR PIN, who was exported to Russia at her age of three years, being mated by HCH NYITRAMENTI ROBIN HOOD (who is out of "Sandra's" 4th litter) and she had this litter in Russia, but under our prefix. Russian Champion NYITRAMENTI XAVER came from this litter, and he had great influence on Siberian breeding. Sandra's daughter NYITRAMENTI JOLLY VOICE sired by PELIDO ROYAL VELVET was the foundation bitch of Hatarszeli Kedves kennel in South Hungary. One dog out of this litter, NYITRAMENTI JACK OF ALL TRADES lived in Ukraine, also in the OLD GOLDEN GATES kennel, and he turned out to be an excellent stud dog. He mated a lot of bitches in the Ukraine, Russia, and in other countries of the former Soviet Union. He sired several Russian Champions and numerous nice bitches, who left significant marks in collie breeding.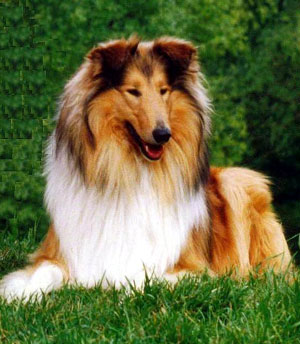 For the third litter, Sandra was mated to International Champion BRILYN DOUBLE ACE. This litter was born in 1992 and it was one of the most important litters in the history of our kennel. Five puppies were born. NYITRAMENTI PEACK OF GLORY who lived with us, and whose show and stud carrer was irionicly far behind his sisters' and brothers' successes. He gained the Hungarian Junior Champion title, but we used him at stud only a few times. We were not satisfied with his temperament and with his slightly heavy ears. We didn't want to fix these features in our breeding. In spite of this he sired the Hungarian Champion NYITRAMENTI WHIRLWIND ex Hungarian Champion NYITRAMENTI OLIMPIAN SUPER STAR. NYITRAMENTI POLONAIZE - the other son of "Sandra" by BRILYN DOUBLE ACE, went to Russia, and he had great influence on the breeding of the collies there. He sired 9 Russian Champions and several excellent collies. His offspring ex different dams were recognizable in the show ring, and they were notable not only for their nice type, but also for their excellent quality.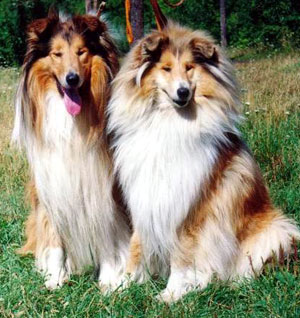 At present his granddaughter lives with us, Hungarian Champion SNOW STAIL GODDES (dam NYITRAMENTI PURE TASTE, litter sister to POLONAIZE). The most satisfying show and breeding successes were due to two daughters of Double Ace and "Sandra", - NYITRAMENTI PURE TASTE and NYITRAMENTI PASTORAL, who went to our friends, to Marina Bolotina in Russia and to Attila Szombathelyi in Hungary. NYITRAMENTI PURE TASTE achieved the first International Champion title of our kennel, and in addition she was Russian Champion, Kazachstan Champion, Russian Club Winner and Hungarian Club Winner in 1996 at the annual show of International Collie Society. But it was not her wins that were most important to us,( even though all of them were joyful), but rather, the fact that she achieved these accolades from such highly respected collie experts as Mrs Sandra Wiggelsworth, Mr Barry Makepeace, Mrs Audrey Chatfield, Mr Brian Hawkins, Mrs Valerie Geddes, Mr Alan Clarke, and Mr Alan Staniland. The judgements from these experts are a source of great pride.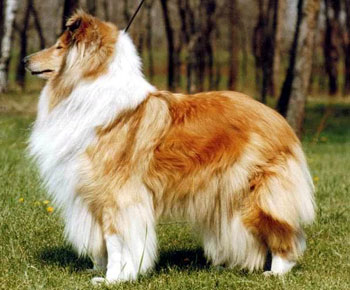 Beyond her show successes NYITRAMENTI PURE TASTE gave us strong and stable offspring. She gave birth to five litters, two of them were registered under the NYITRAMENTI prefix. However the number of her offspring is not high, they were only 11. Nine of them are Russian Champions, two of them became Hungarian Champions and two of them are International Champions, five of them won the Champion title of the Russian Collie Club. Her daughter, NYITRAMENTI YOUR MAJESTY OF SNOW HILLS, who lived in our kennel, was European Champion and BOB in 1998, in Genova, and in addition she is International Champion, Hungarian Champion, Luxembourg Champion.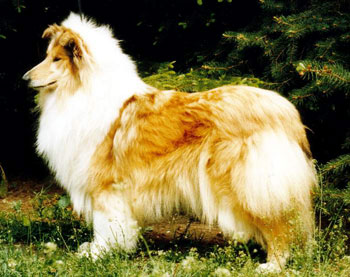 NYITRAMENTI YOUR MAJESTY OF SNOW HILLS lives now with the Walsh family, Joshren kennel, in Ireland. Two of her sons lives with us, International Champion, and Hungarian Champion NYITRAMENTI EMPEROR, and Inter-, Hungarian, Austrian, Croatian Champion, Austrian Club Winner NYITRAMENTI ELIXIR, both of them are sired by GALLAGHER OF LOVELING STAR. In addition one dauhter lives with us as well, Hungarian Champion JOSHREN NOREEN GLOIDH, sired by CH AARONWELL ANTIQUE GOLD AT BRILYN.
The show carrer of NYITRAMENTI PASTORAL was not less successful. She won the Hungarian Junior Champion title, and she became the Youth European Champion in 1993, she was Hungarian Club Winner, Hungarian Champion later, and World Champion and BOB in 1996.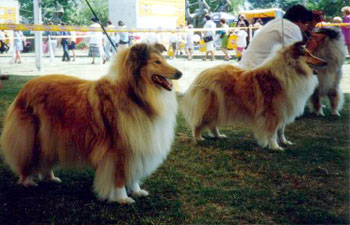 Pastoral gave birth only to one litter, in 1995 by CH ROCLYN KINGS MINSTREL, living with us. Three dogs and two bitches were born, and both of the bitches grew up to be excellent show dogs. One of them – SHARIDON AMETHYST RUBIN ROSE – won the Hungarian Youth Club winner title in 1996, the Youth World Champion title in 1996, and Hungarian Junior Champion title. The other bitch – SHARIDON AYLEEN CARROW SPICER – lived at us until her age of four years, and she played an important role in our breeding. She won the following titles on the shows: Hungarian Champion, International Champion, Czech Champion, European Champion 1999, Tulln. Nevertheless it is even more important, that she gave birth to two special dogs: the gold sable World Champion 2003, International Champion, Hungarian and Russian Champion NYITRAMENTI CAPTAIN BLOOD, and Youth European Champion, European Champion, Estonian and Luxemburg Champion NYITRAMENTI CHIMNEY SWEEP. Both of them won first places and reserve titles not only on East European but also on West European speciality shows. It was an unforgettable moment for us, when CHIMNEY SWEEP won the best male and CAC title on the prestigious Dutch Collie Club show in 2002. It was an especially important moment, if we take it into consideration, that on the same show the best female, CAC, BOB and BIS was bred by us as well, - NYITRAMENTI IGNEOUS LACE, the daughter of Champion NYITRAMENTI CAPTAIN BLOOD. It was the first time in the history of the Dutch Collie Club, that the best male and the best female were from the same kennel, and in addition from an East European country!
On the same speciality show NYITRAMENTI CAPTAIN BLOOD won the reserve best male titles in 2000 and in 2003 as well, which performance can be considered as being unique of its kind. In 2000 at only 20 months old CAPTAIN BLOOD won the second best male title with resCAC on the French Collie Club show among 72 dogs in the open class. On the same show in mental test, he got the third place among dogs, where our other dog, NYITRAMENTI EMPEROR won the second place. In show ring NYITRAMENTI EMPEROR become fifth.
The litter sister of Chimney Sweep and Captain Blood, NYITRAMENTI CLAUDIA SCHIFFER won the Hungarian Youth Club Winner title in 1999, and she has became Hungarian Champion not long ago.
And after all that we should also say some words about the third sister of NYITRAMENTI PURE TASTE and PASTORAL, - NYITRAMENTI PRETTY WOMAN, who lived in Ukraine, with Jelena Levkova, Sunny Valley kennel. She presented us with two litters, and she is a part of our breeding history through her offspring. She gave birth to her first litter in 1994 by her half brother, HCH NYITRAMENTI ROBIN HOOD. The Russian Champion NYITRAMENTI WINCHESTER OF SUNNY VALLEY and the bitch, NYITRAMENTI WINKEL OF SUNNY VALLEY, who stayed with Jelena Levkova, came from this mating. In 2000 we proposed that this bitch be mated to NYITRAMENTI CAPTAIN BLOOD, and the puppies from this mating won many show titles. The best known of them is NYITRAMENTI IGNEOUS LACE, who owns the following titles: Hungarian and Austrian Youth Champion, Hungarian Youth Club Winner 2001 and Junior BIS, best youth bitch on the Portuguese Collie Club Show, Interchampion, Hungarian, Austrian, Croatian Champion, the winner of Dutch Collie Club Show and Best in Show, German Club Winner and Best in Show, twice Austrian Club Winner, European Champion and BOB in 2004. She won all these titles within 4 years. This breathtakingly beautiful bitch entered the name of our kennel in the breeding of the collie in the world. IGNEOUS LACE gave birth to a nice litter in 2003.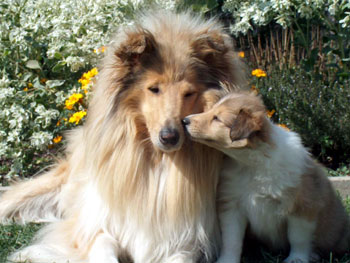 In 1993 CLAREDAWN STARS IN HER EYES gave birth to her fourth litter, it was to DOLEN DOUBLE BRANDY AT BRILYN. Two puppies, both dogs were born. One of them, NYITRAMENTI ROBIN HOOD became Hungarian Champion, and a very prolific studdog. His owner is Erika Lissai, RINEWELD kennel. Amongst ROBIN HOOD's offspring we can find four Hungarian Champions, a Russian Champion and a Polish Champion. In particular, his daughters out of different matings are important, as they are of very good type and high quality.
The last litter of CLAREDAWN STARS IN HER EYES was born in 1994, she was mated by PELIDO KINGS COUNCEL. Six puppies were born, later on we used in our breeding, one of them, NYITRAMENTI UPPER CLASS BOY. Regardless of the fact that he didn't gain any champion title himself, I still consider him to be one of the most beautiful dogs bred by us.
The other dog out of "Sandra's" last litter, NYITRAMENTI ULTIMATE DECISION had great influence on collie breeding, not with us, but in Moscow. He won the Russian Champion title and the Russian Club Winner title as well. He sired ten Russian Champions.
In 1990 we imported one more collie bitch from England, namely SANDIACRE SPLANGED DREAMS. This charming collie became Hungarian and Austrian Champion, she won many times BOB, and she was twice resBOG on CACIB dog shows. We got only one litter from her, she was mated by NYITRAMENTI UPPER CLASS BOY. An exceptionally beautiful bitch came from this litter - NYITRAMENTI ZEST FOR LIFE, who achieved fantastic show results, winning Hungarian Youth Club Winner title, Hungarian Junior Champion, and International Champion, Hungarian Champion titles later. Her daughter – Hungarian and International Champion NYITRAMENTI DON'T LOSE A VICTORY lives with us now. The litter brother of ZEST FOR LIFE namely NYITRAMENTI ZERO HOUR won the Hungarian Champion title as well.
The halfsisters of "Sandra", - CLAREDAWN FLASH DANCE and CLAREDAWN LOOK TO THE STARS produced less puppies than Sandra. However we would like to mention three litter of them here. First of all here is NYITRAMENTI NARROW EYED, who is the son of Champion SANDIACRE STREETS AHEAD and CLAREDAWN FLASH DANCE. "Prince", as we call him at home, is the first collie with Nyitramenti prefix, who gained the Hungarian Champion title, and the first dog as well, who got the Hungarian Club Winner title. But it is more important, that he is special to us due to his enchanting temperament.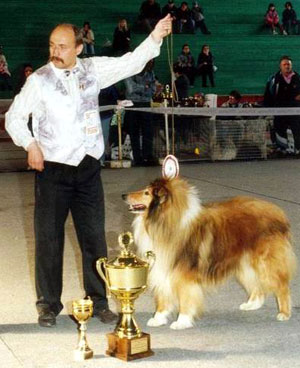 Among CLAREDAWN LOOK TO THE STARS's offspring the best known is NYITRAMENTI LOVE STORY, who lived with Irina Solodenikova, in Moscow. Katty didn't get any champion titles, even though she won at several big and prestigious shows,but it would be impossible to underestimate her importance in collie breeding in Russia and in Moscow. She gave birth to nine Russian Champions, two International champions and in 2003 in Bratislava her son, HOKSVUD FORINT won the European Champion and BOB title.
The other daughter of CLAREDAWN LOOK TO THE STARS is out of her last litter, Hungarian Champion NYITRAMENTI YOUNG LADY, and she is the foundation bitch of the Hungarian DRAGON GOLD kennel, owned by Monika Bardos.
We purchased two more bitches from England in 1995, one of them was ABERHILL PERSONALITY MADAM. She arrived with us as an adult collie, and we were fascinated by her type. Unfortunately we didn't get any litter from her.
We got the other bitch as puppy from the DELBAR kennel. Her name was DELBAR SIMPLY SPECIAL, and she achieved outstanding show career, winning Hungarian Club Winner and Hungarian Champion titles.
She gave birth to two litters, in both cases she was mated by a dog bred by us. From her litter by NYITRAMENTI ROBIN HOOD came three Champions: Hungarian Champion NYITRAMENTI FORMULA ONE (dog), Polish Champion NYITRAMENTI FIREBALL( dog), and Hungarian Junior Champion NYITRAMENTI FOLLOW THE FASHION (bitch). The last one marked herself in our breeding history as she won the first place on the mental test at the French Collie Club show in 2000 among nearly 200 collies.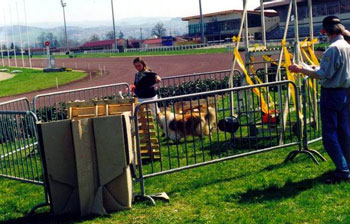 We asked for her return from her owner in order to mate her to NYITRAMENTI CHIMNEY SWEEP, and from this mating came NYITRAMENTI LITTLE MISS, the Youth European Champion in 2003, in Bratislava. Her litter sister, NYITRAMENTI LEITMOTIVE lives with us for breeding purposes. LEITMOTIVE has excellent show career as well: she is Hungarian and Austrian Junior Champion, and on the Austrian Collie Club Show in 2004 she was Youth Club Winner, BOB and Best in Show. In 2005 on the European Dog show in Tulln she became European Winner bitch and Best of Breed. Now she is one of our more important brood bitches. From her first litter, sired by Champion of South Afrika CHELLERT DARE DEVIL, she produced three outstanding youth winners: European Youth Winner'05 and Youth Hungarian Champion NYITRAMENTI NAVIGATOR (owner – Posch Peter, Hungary), Youth Polish Champion and Youth Polish Club Winner NYITRAMENTI NIGHT FLIGHTER (owner – Beata Ziemnicka, Poland), Winner of several CC and BOB in South Africa NYITRAMENTI NEXT BEST (owner – Dr Rochelle Ehrlich, kennel Chellert, South Africa).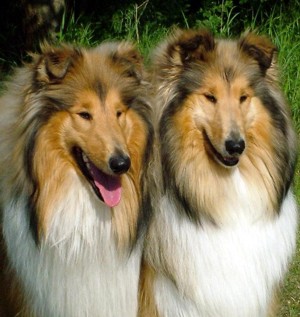 DELBAR SIMPLY SPECIAL was mated a second time, to Champion NYITRAMENTI BARRISTER. Among the puppies from this litter there are two nice Champions: Hungarian Champion, Hungarian Club Winner dog NYITRAMENTI GREAT PRETENDER and the charming Hungarian Champion bitch NYITRAMENTI GOLDEN TRACERY.
Besides the English imported bitches we used one bitch from the Soviet Union as well. I brought her to our kennel in 1989 so as to have a litter from her. After this she went back to her owner, and a daughter of her stayed with us. She was NIJANA NICE a bitch from top quality, with extraordinarily good make and shape, she was the queen of the show rings. NIJANA got winner titles on several shows from respected Soviet and Finnish judges, and later she won first places under Mrs Audrey Chatfield and Mr Barry Makepeace as well. I loved this bitch very much, and I am happy that her descendants live with us and we have the possibility to use them in our breeding.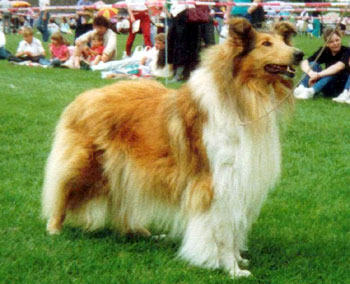 NIJANA was the great-granddaughter of CH DUNTIBLAE DOGSTAR, DIGGER OF DUNSINANE and ROKEBY THE ROYAL EAGLE. It is interesting that in her dams line in the 5th generation there is my first collie dog, HAPPY. In this way through Nijana the 7th, 8th generation were born in our kennel counted from Happy, and these descendants got winner titles on the prestigious shows of nowadays. As I mentioned above we kept a bitch from NIJANA NICE, NYITRAMENTI OLIMPIAN SUPER STAR. She had won Hungarian Junior Champion title, and later the Hungarian Champion title as well, and she was 2nd in Youth Class on the European Dog Show in 1993. She gave us three litter, and in the 3rd litter, when she was mated by German Champion QUINCEY JONES OF SLATESTONE, two Champions were born. One of them, NYITRAMENTI BARRISTER , we are hugely proud of. He won the following titles: Hungarian Youth Club Winner title, Junior BIS, BOB, reserve Best in Show on the show of Hungarian Collie Sheltie Corgi Club 1998, Youth European Champion in 1998 in Genova, Luxemburg Youth Champion, 4 times CACIB (Hungary, Germany, Czech Republik and Belgium), 6 times BOB, BIS on the annual show of International Collie Society in Mannheim, 1999, ResBOG in the belgian Liege on a CACIB show, Hungarian, Polish and Interchampion.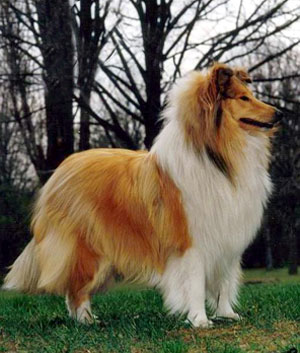 NYITRAMENTI BARRISTER is not only one of the most successful dogs in our kennel, but he is also an excellent reproducer. His offspring inherit such good quality like excellent front with good neck, well angulated shoulder, strong(but not barrelled) chest, excellent hindquarters with low-set tail, rythmical movement and heads of good style.
It wasn't difficult for us to choose the sire line to use in our breeding. When I moved to Hungary I already had the appropriate theoretical knowledge and practical experience from that time when I had been occupied in dog-breeding. I had the strong conviction, that we can get the best results from line breeding. As all of our bitches were the decendants of Champion ARRESTER on the male line, I was looking for studdogs out of his line. I had made a study on all the available information about this stud dogs' offspring in the best possible way, and finally I came to the conclusion that the most suitable stud dogs for us were the descendants of English Champion BRILYN SUPERTRAMP, a grandson of ARRESTER, English Champion LYNWAY SANDKNOCKER, the great grandson of ARRESTER, and English Champion TASHADON TOMMY TUCKER, a son of ARRESTER.
These three dogs don't look like each other, and I don't think, that all of them represent the ideal collie, but they compliment each other well. SUPERTRAMP was outstanding with his strong bones, well developed chest, masculine and clean head, pleasing eyes and nice rich sable colour. SANDKNOCKER was known for his extraordinarily elegant head, nice ears, wonderful expression and proportional construction. Superb construction, good neck and very good hindquarters, excellent temperament and confident show behaviour characterized TOMMY TUCKER. As to my observations Ch BRILYN SUPERTRAMP sired the most homogeneous offspring with the less genetic faults (like missing tooth, weak nervous system, weak bones or ligaments, ears or tail carried wrong). In addition as to my and Janos's opinion his type and outlook is the most attractive, that is why we bred his line, and his descendants brought us the most prominent results. We used in breeding, three of his sons: DOLEN DOUBLE BRANDY AT BRILYN (as in our opinion he took after his father mostly); the Italian Champion GLENALAN SUPER TROOPER and PELIDO KINGS COUNCEL.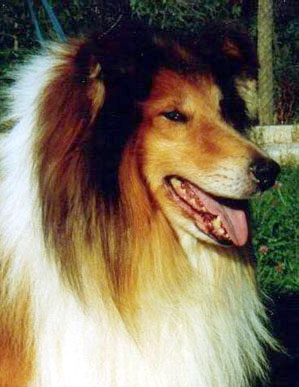 We used not only the sons, but also the grandsons of SUPERTRAMP, they were: Interchampion BRILYN DOUBLE ACE (this dog's offsprings brought us more important results), Hungarian Champion NYITRAMENTI ROBIN HOOD, German Champion QUINCEY JONES OF SLATESTONE, NYITRAMENTI UPPER CLASS BOY, the European Champion, Italian Champion and Interchampion DO IT AGAIN FULVO DELLA CAMBIANELLA, GALLAGHER OF LOVELING STAR. In the summer of 2003 we got a new stud dog, RANGER VON BELVEDERE, who is from BRILYN SUPERTRAMP's line. From his sire's side he is the greatgrandson of MIRPET MATT BIANCO, the son of SUPERTRAMP. From dam's side he is greatgrandson of PELIDO KINGS COUNCEL twice. We hope that using him in breeding will have good influence on our bitches. RANGER has already proven his beauty: he was European Champion in 2004 in Barcelona and Best Dog with CAC on Dutch Collie Club show 2005, so he justified our decision.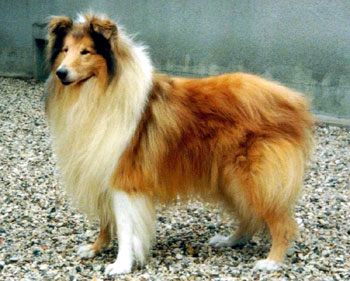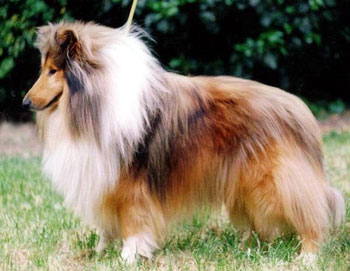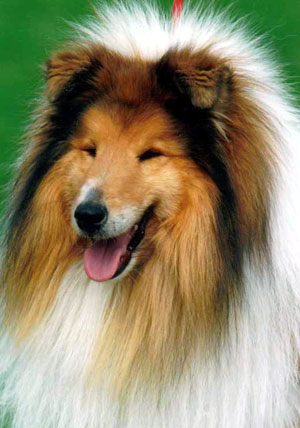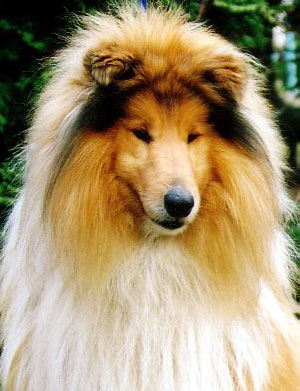 We got the line of LYNWAY SANDKNOCKER through his son, Hungarian Champion SANDIACRE STREETS AHEAD, who is from England, from Mr and Mrs J Wiggelsworth's kennel. King (it was his name at home) left a great impression not only in our breeding but also in our souls. He was not a big dog, and he matured slowly. His head and expression made a big impression on every expert of the breed who saw him. His head was totally well balanced and masculine, with very clean lines, his eyes were of excellent shape and he had an extraordinarily nice expression. Apart from his smaller size King was a very elegant dog, with faultless character, calm and confident, and very flattering to us, understanding and intelligent. It was an unbelievable blow to us to loose him at his age of 4 years, in his prime. He sired two excellent sons: Russian Champion APPLE BLOSSOM, and Hungarian Champion NYITRAMENTI NARROW-EYED. We used both of them in our breeding. In addition of them we used another excellent son of SANDKNOCKER, the Italian Champion MATAI GOLD SPOT.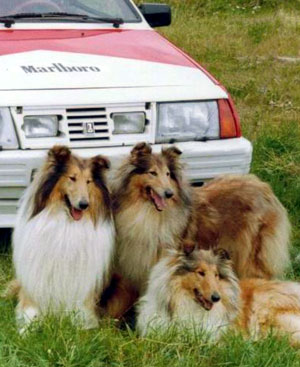 And last but not least the line of English Champion TASHADON TOMMY TUCKER was represented in our kennel by his grandson, International Champion, Hungarian Champion, Youth World Champion 1994 (Bern), World Champion and BOB in 1995 (Bruessels) ROCLYNN KINGS MINSTREL, who came from Ireland, from Mr Paul Battigan. "Rhys" as we call him at home, is a particular chapter in our kennel.
Thanks to Rhys we became acquainted with the feeling of being the best in the world, and he obtained it for us twice! Rhys is a real showman. He has sound temperament, he is always ready for action, and he has superb energetic movement, which qualities helped him always to be the winner or one of the winners even in big and strong competition. In the opinion of several senior collie people's , who had seen Champion ABERTHORNE ARRESTER alive, Rhys takes after his great ancestor very much.
Of course ROCLYN KINGS MINSTREL enters the collie history not only for his show record (he is the only dog up the present day, who won the Youth World Champion title and the World Champion title as well), but also as an excellent stud dog. Among his offspring there are Youth World Champion, European Champion, 2 Hungarian Champions, 3 Russian Champions, Interchampion, 3 Czech Champions, Czech Youth Champion, 3 Hungarian Junior Champions, 1 Austrian Jugend Champion, Hungarian and Austrian Youth Club Winners. Among his grandchildren there are European Champions, World Champions and it is not easy to count the national and international champions in the different countries.
By using the above mentioned stud dogs and their descendants to mate our brood bitches we had created stylish and – we can say it without immodesty – outstanding collie stock of high quality.
The aim of our breeding work is the collie of good type, in keeping with the breed standard and to maintain the true collie character. This last criterion is one of the most important viewpoints in the selection process, not only in theory, but in reality, as we have strict requirements for the temperament of the dogs which we decide to use in our breeding programme.
The structure of our collies is good, they have strong bodies and not weak, but healthy joints and ligaments. The majority of our collies have well-balanced wedged shaped heads. Most of our collies have good construction, strong hindquarters, which makes the flexible movement possible. Most of our collies have good chests, and we managed to breed some collies with really excellent fronts (they have neck from good length, in harmony with the well anglulated shoulder-blades.) Most of our collies move well and freely if they are kept properly and they are trained at a minimal level.
We pay attention to not having more than 12 collies at the same time, and usually we don't have more litters per year than two.
Balázsovits Elena
October of 2005.